Since introducing Pixelbook in 2017, the high-performance Chromebook from Google, we've been thrilled to see all the ways it has benefited so many businesses. Pixelbook combined with the advanced Chrome Enterprise capabilities has increased security at HackerOne, helped employees stay productive on the road at QAD, saved deployment and management time at Square, and is even loved by end-users like this NASA astronomer. Businesses of all sizes adopt Pixelbook to help with their digital transformation, and we're excited to make this possible for even more businesses with the newest member of the Pixelbook family.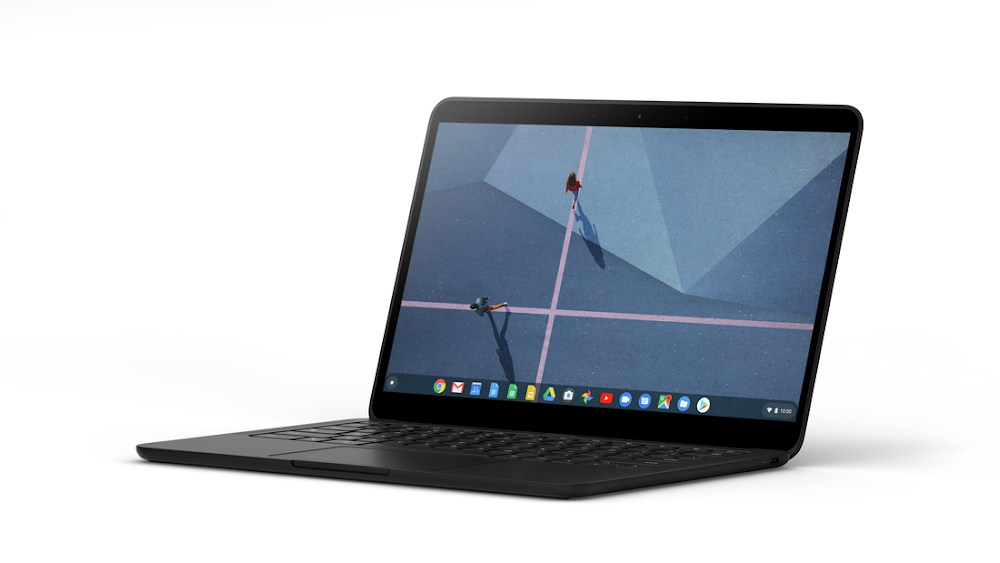 Today, we are announcing Pixelbook Go Enterprise—a more affordable, high-performance Chromebook. It's designed for employees who need an ultra-portable laptop, long battery life, and performance that can keep up with their on-the-go lives as they move from meeting to meeting or city to city.
Beyond beautiful hardware employees will love using, Pixelbook Go Enterprise has everything businesses need right out of the box. It comes with the Chrome Enterprise advanced capabilities already unlocked. This means IT professionals can secure and manage their cloud workforce without needing to purchase a separate license.
Here's a look at the benefits of the Pixelbook Go Enterprise:
Secure by design: Combined with the advanced security capabilities of Chrome Enterprise, Pixelbook Go Enterprise helps protect end-users from threats with the Titan C security chip, verified boot, built-in virus protection, and sandboxes for apps and web pages.

Made to move: Built with finely-painted magnesium, Pixelbook Go Enterprise is ultra-thin and lightweight at barely 2 pounds1 and only 13mm thin. It has up to 12 hours of battery, and can charge quickly with up to 2 hours of use time in as little as 20 minutes2. With the 13.3" touchscreen display, your employees can stay productive on the go.

Built for speed and productivity: Pixelbook Go Enterprise boots in seconds, and its updates happen automatically in the background so they don't disrupt work3. With an 8th Gen Intel® Core™ processor, employees can multi-task with multiple tabs and apps open. Employees will have high-quality video calls on the go with the 1080p capable webcam and dual mics providing better noise cancellation. And the ultra-quiet, backlit keyboard allows them to work from anywhere, even in the dark.
A smart investment: Deploying Pixelbook Go Enterprise in your organization can provide total annual savings per device of $4824. Calculate how much your organization can save.
Pixelbook Go Enterprise brings you the features customers love about Pixelbook—a touchscreen, powerful processor, built-in security, and great keyboard—in a lighter, more affordable design with longer battery life. With the Chrome Enterprise capabilities unlocked, businesses don't need to purchase a separate license.
Pixelbook Go Enterprise starts at $999 with an 8th Gen Intel® Core™ i5 processor, 8GB of RAM, and 128GB of storage. You can learn more by contacting our sales team.
Availability: Pixelbook Go Enterprise will be available in the US & CA later this year and in the UK in early 2020. Additional Pixelbook Go models are available starting at $649 with an 8th Gen Intel® Core™ m3 processor, 8GB of RAM, and 64GB of storage. These models will be available in Just Black in US & CA later this year and in France, Australia, New Zealand, Denmark, Finland, Norway, and Sweden in early 2020. (Note: These Pixelbook Go configurations do not come with the business capabilities unlocked and would require a purchase of the Chrome Enterprise Upgrade.)
---
Intel and Intel Core are trademarks of Intel Corporation in the U.S. and/or other countries.
1. Weight may vary by configuration and manufacturing process.
2. Battery performance is based on a mix of standby, web browsing and other use. Actual results may vary. Charging time requires the battery to be at least 5% charged, the device to be inactive and use of included charger. Actual results may vary.
3. Automatic updates require internet connection
4. Quantifying the Value of Chromebooks with Chrome Enterprise", June 2018, a report conducted by The Enterprise Strategy Group, Inc., and commissioned by Google. The scenario models a medium-sized organization generating roughly $50M in annual revenue. ESG assumed that this organization would deploy 250 basic endpoint devices to support field operations, and 100 advanced office worker devices for information workers at corporate headquarters. Annual savings per device will vary for organizations based on their operational infrastructure and employee requirements.
Feed Source: Cloud Blog
Article Source: Introducing Pixelbook Go Enterprise, a new high-performance Chromebook made to move