Today, we'll dive into browser management by discussing how IT admins can manage policies and extensions across their organization, even with a mixed set of operating systems. The answer: Chrome Browser Cloud Management.
What is Chrome Browser Cloud Management?
Historically, managing extensions has been a challenge for admins—it can be tough to know which extensions have been installed in an organization, or the permission details required to run them. Chrome Browser Cloud Management changes this by giving admins a way to manage their enterprise's Chrome Browser deployment from a central location. It simplifies IT management by:
Working cross-platform. No matter the operating system—Mac, Windows or Linux—manage from a unified console.
Providing added transparency. See which Chrome versions are in use, machine OS information, as well as detail on extensions installed, policies applied and more.
Supporting governance and compliance efforts. View browser inventory information to detect and mitigate issues quickly.
With Cloud Management, admins have an enterprise-wide view of the extension list. If they see an extension they don't want, they can block it. If they see an extension that they want others to have, they can force install it.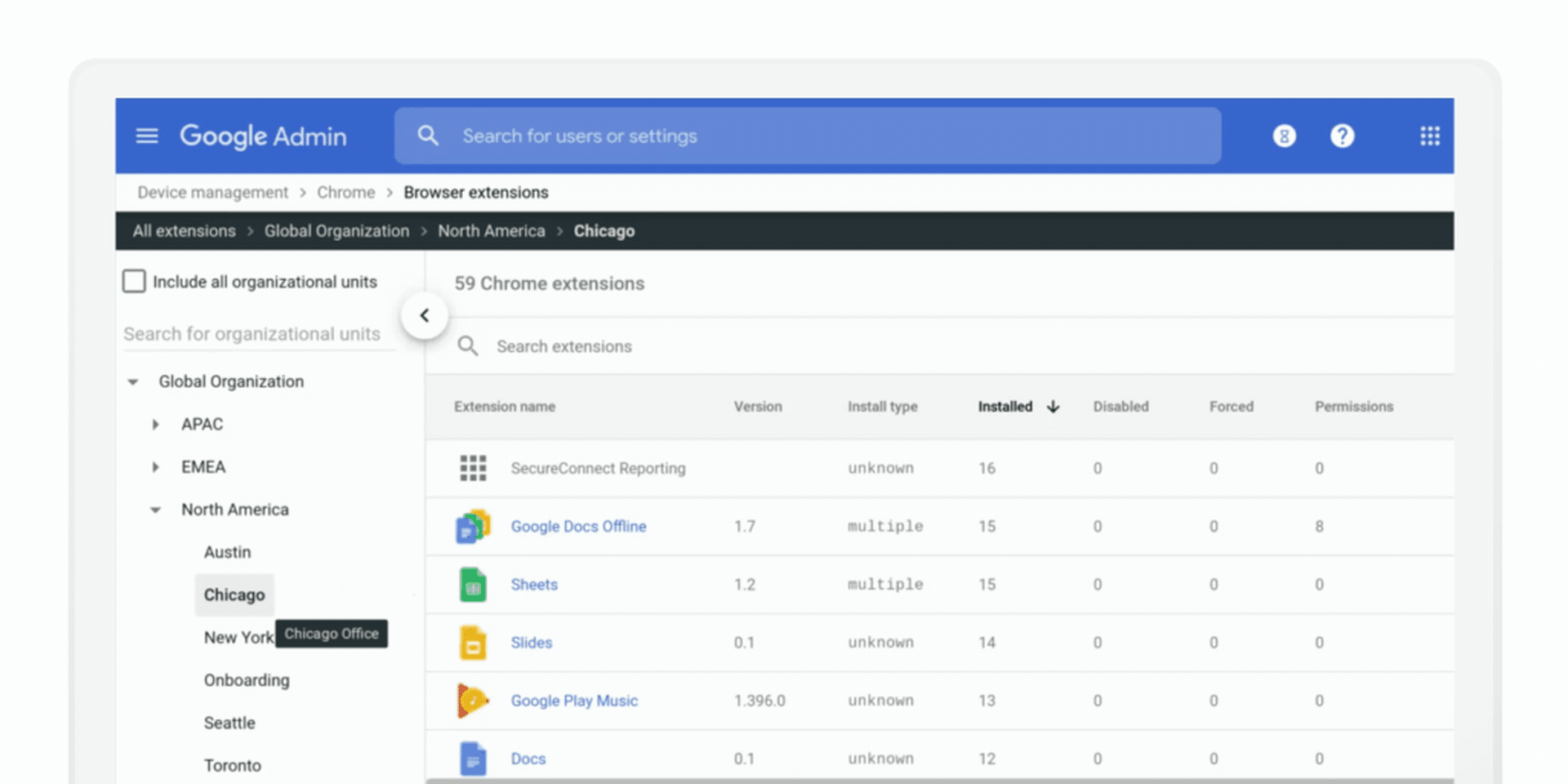 With this new management tool, admins can see:
How an extension was installed, whether from a user, an admin install or another way.
The permissions that an extension requires to run by simply clicking on the permission name to see an API description.
A sample of where the extension is installed. Clicking on the name of the extension takes you to the Chrome Web Store listing, where it's possible to block or force-install the extension, as well.
Note: many of the policies set via Microsoft Group Policy Object (GPO) can be set in Chrome Browser Cloud Management, too. Keep in mind that policies that are set through GPO will take precedence over any cloud policies, so they can work side by side.
And when it comes to security, one of our newest policies—Password Alert policy—gives admins a way to detect when an employee enters corporate credentials into a non-corporate website or phishing site. This can help companies avoid organizational data breaches, and works for both Google and non-Google accounts. Read more about this policy and other Google Admin console updates (including new policies and search capabilities) in this post.
How to get started
If your organization uses Chrome Browser, you may already be familiar with the Admin console, which means that you already have access to Chrome Browser Cloud Management. Congrats! Find it under Devices > Chrome Management.

If your organization does not use Chrome Browser yet, no worries. We can provide a free domain for you if you sign up.
Enrolling browsers
Once you're ready to enroll browsers, you can do so through a token-based enrollment process (that can be pushed out by GPO or whatever you like). This enrollment process automatically adds them to the selected organization unit (OU). Mass enrollment is no problem.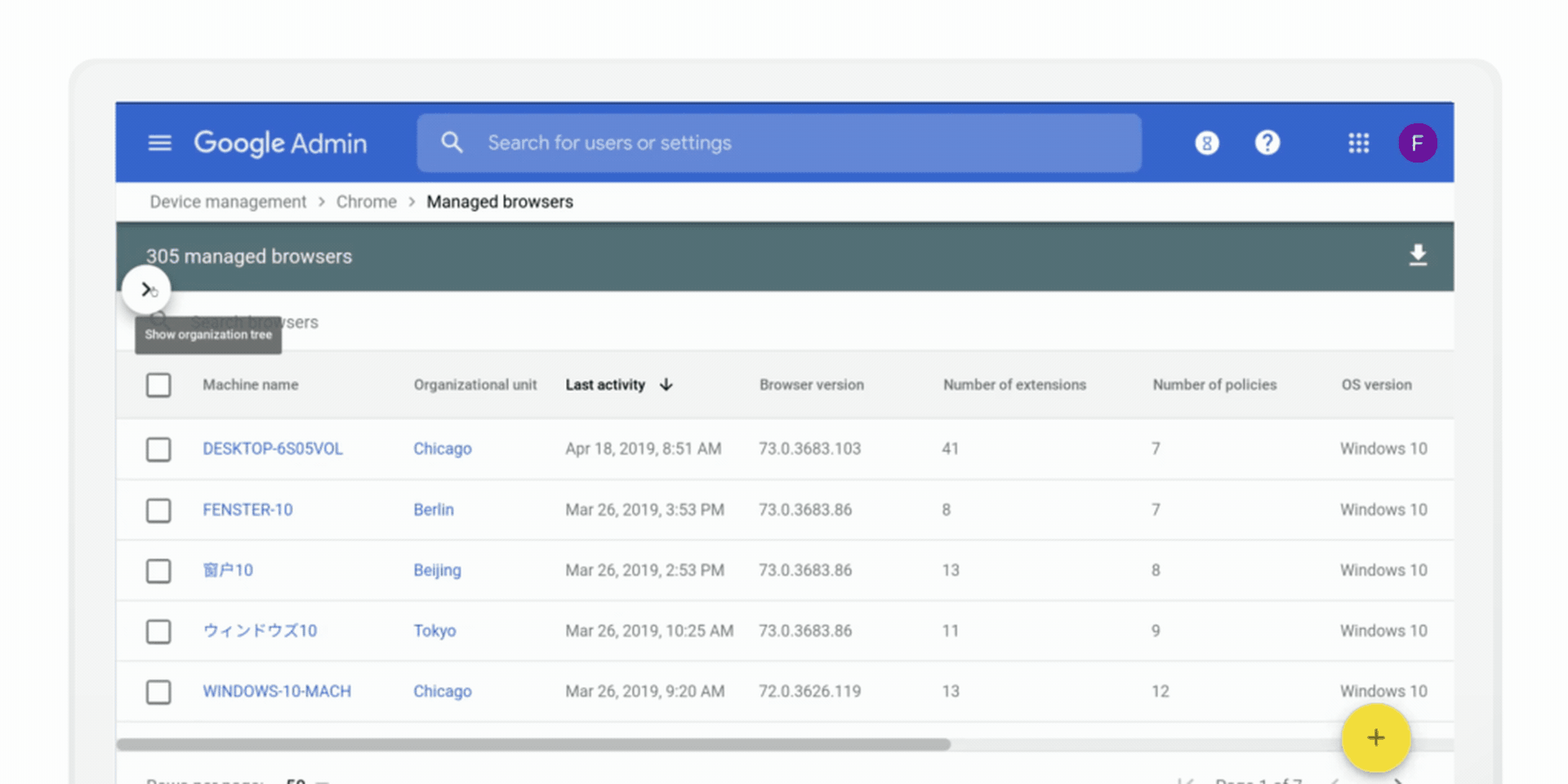 Enhanced visibility, simpler management, and increased security for your browser fleet are always great. Stay tuned for more Admin Essentials coming soon.
Feed Source: Cloud Blog
Article Source: Admin Essentials: managing policies and extensions across operating systems in Chrome Browser